Americana 4th of July Party Banner Patriotic Party Decoration Independence Day Party Porch Sign Fourth of July Party Supplies Red White Blue Hanging Sign Decoration to be placed on each side of the dessert table 
behind the dessert station
Burlap Banner to be used  at entrance 
Jim Shore Heartwood Creek Mini Patriotic Eagle Stone Resin Figurine, 3.75"
Darice Ceramic Dip Size Bowls Patriotic Red and Blue with Stars Set of 2
olelo 2-Tier Acacia Wood Cake Stand,Cupcake Stands Macaron Plate Cakes Desserts Fruits Snack Candy Buffet Display for Wedding Home Party Office Serving Platter
Darice David Tutera 4-Tier Rustic Slice Cupcake Stand, Natural Wood
Patriotic USA Designs 6 Cavity Silicone Mold Baking Chocolate Candy Making Ice Cube Molds
Grandmama's Goodies P010 USA Flag Patriotic 4th of July Lollipop Chocolate Candy Soap Mold with Exclusive Molding Instructions
2 Pieces American Flag Silicone Mold 2020 Keychain Silicone Mold with 10 Pieces Keyrings, DIY Baking Mold Ice Cream Pudding Chocolate Cupcake Candy Jelly Soap Mould for 4th of July, Election Day
Patriotic Red, White and Blue Twist Pops (24 Cherry suckers) Fourth of July Candy
Boone's Mill | Holiday Themed Rock Crystal Candy Sticks | 4th of July – Freedom & Independence | 36 Count
USA American Independence Colored MINI 0.5 Inch Gumballs 2 Pounds-4th Of July Candy
Patriotic American Flag Buckets (Set of 12) Tin Pails for Fourth of July
Patriotic Fourth of July Uncle Sam Photo Door Banner Photo Backdrop Prop, Large Fabric Photo Booth for Independence Day 4th of July Party Favors Supplies Decorations Patriotic Game Supplies, 6 x 3 ft
Lazy One Short-Sleeve Summer PJ Sets for Girls and Boys, Kids Pajama Sets, Independence Day, 4th of July, USA, Fun, Patriotic, Holiday (Stars & Stripes, 6)
Carter's My First 4th of July Collectible Bodysuit Baby Girl (3Months) (9 Months) White
3 DIY 4Th of July Desserts
Patriotic Chocolate Covered Strawberries…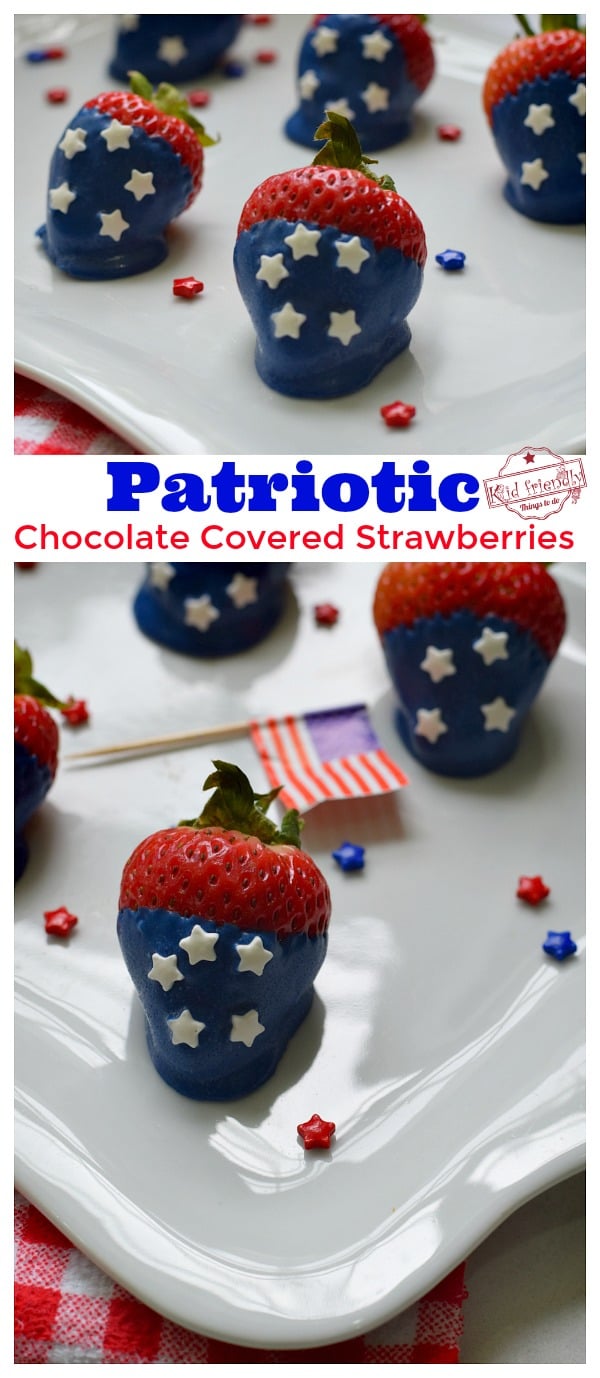 How do you make Chocolate Covered Strawberries…
Pick ripe, but not overly ripe strawberries
Rinse and dry the strawberries
Lay out the wax paper
Melt the chocolate melts in a small to medium sized bowl
Dip the strawberries into the melted chocolate until about half of the strawberry is submerged
Lift the strawberry and let the excess chocolate drip off of  the strawberry and into the bowl of melted chocolate
Set the strawberry onto wax paper
Decorate while the strawberry quickly before the chocolate hardens
Watermelon Blueberry Sparklers
by www.shinyhappybright.com
Tips for Making These Watermelon Blueberry Skewers
Choosing the best watermelon: make sure to get a melon that is heavy for its size, has a yellow-ish circle on it (meaning it ripened in the field), and makes a hollow sound when thumped (under-ripe melons sound duller).
Make sure to use a very stable cutting board while you cut your watermelon into 'plates'. If your cutting board is slipping around, put a dishcloth under it.
While I usually use a full-size watermelon for this recipe (they're cheaper!), if you are making this recipe with kids, it might be fun to get them each their own small melon.
This recipe works best with seedless watermelons.
It's easy to add other fruit to these skewers as well! Pineapple and melon both make great stars too.
Patriotic Bark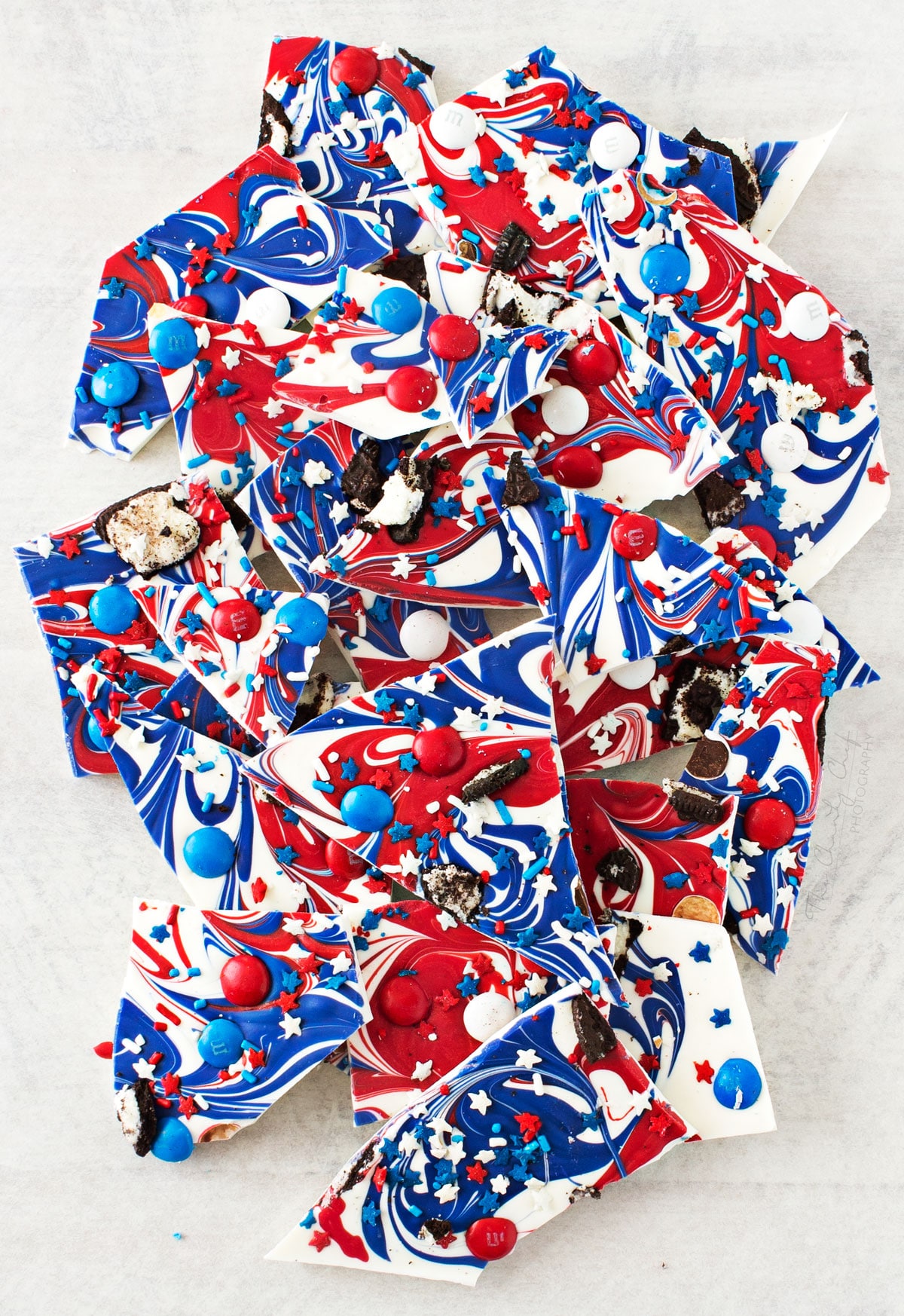 Pour the white candy melts into the jelly roll pan and then drizzle the colored candy melts over the top.  Here's a picture of how I drizzled it for this pattern.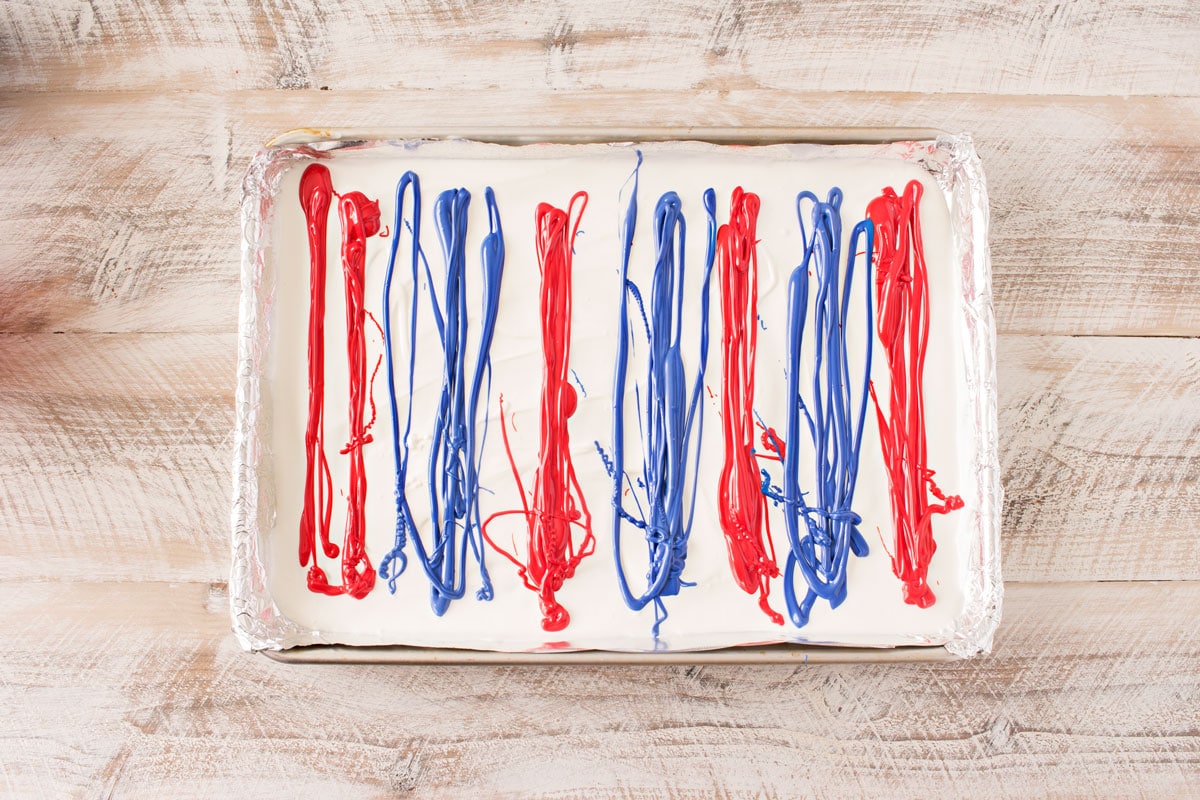 Then I used a small wooden skewer (the non-pointy end) to swirl in a figure 8 pattern.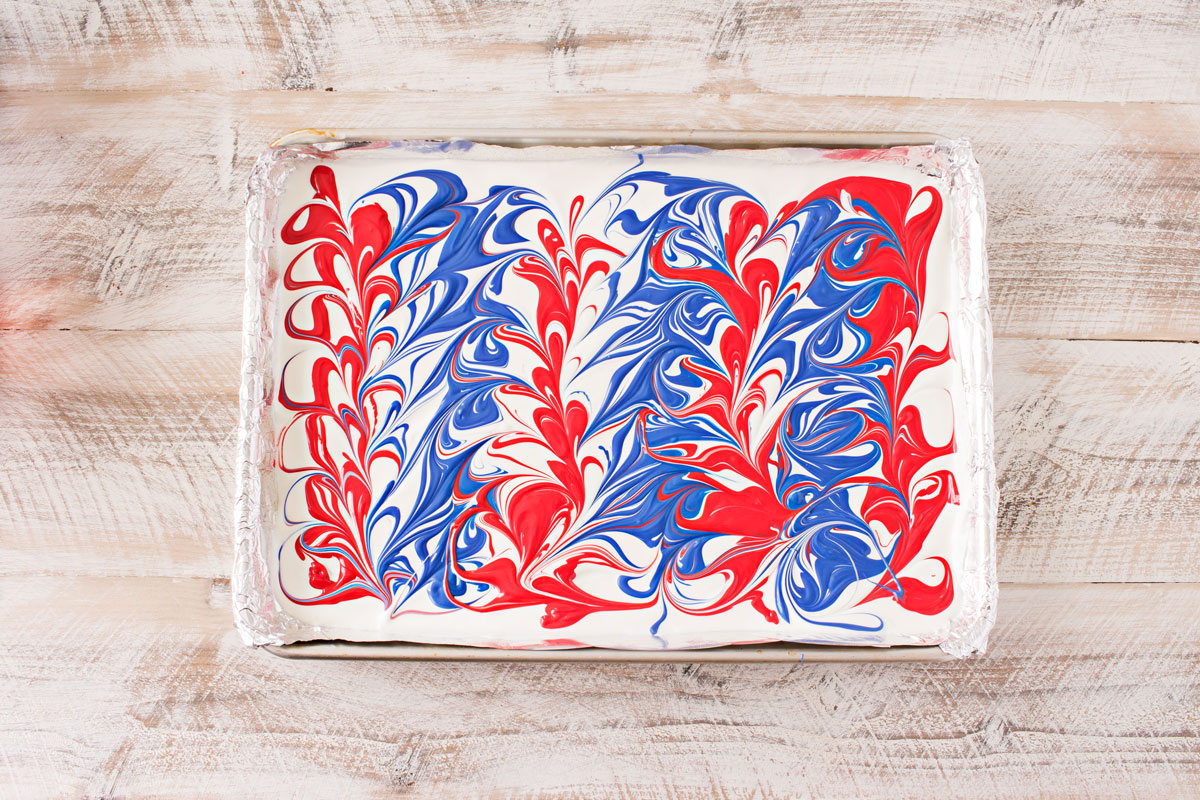 Now just top it with your toppings (crushed oreo cookies, m&m's, star sprinkles, and red white and blue jimmies) and refrigerate until it's hard enough to break.  That's it!!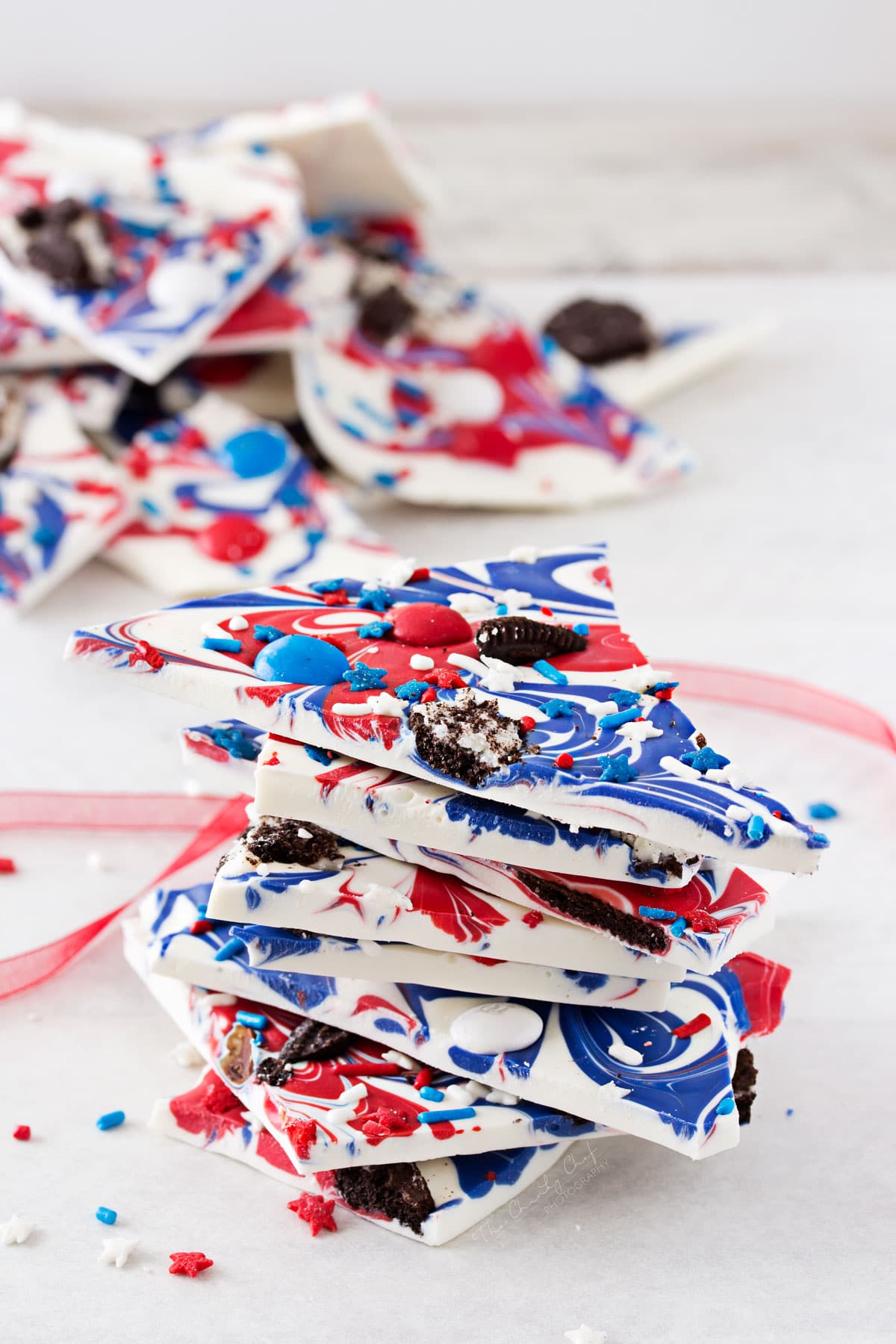 5 Top  Fourth of July Cakes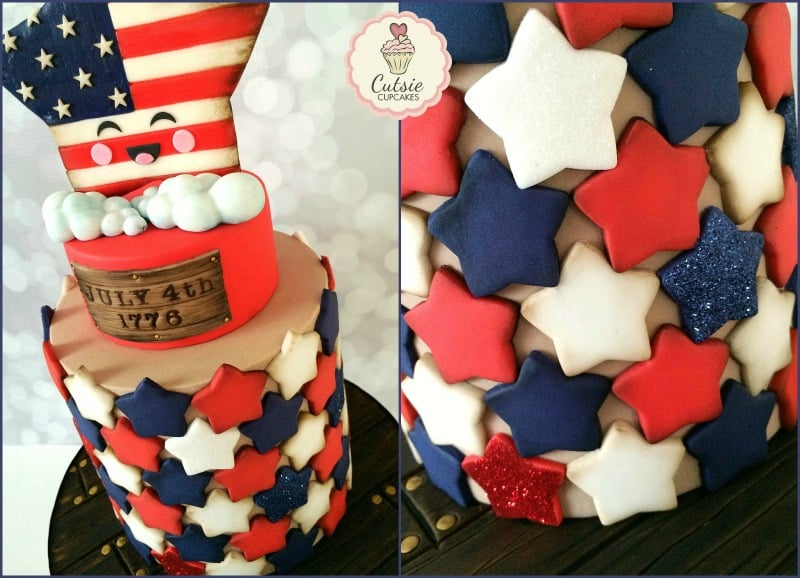 by cutsiecupcakes.com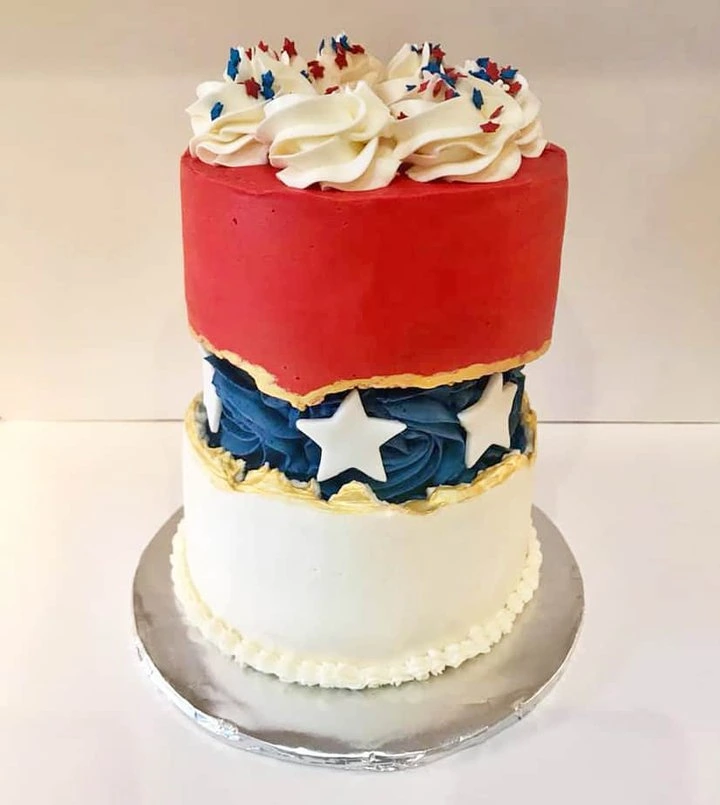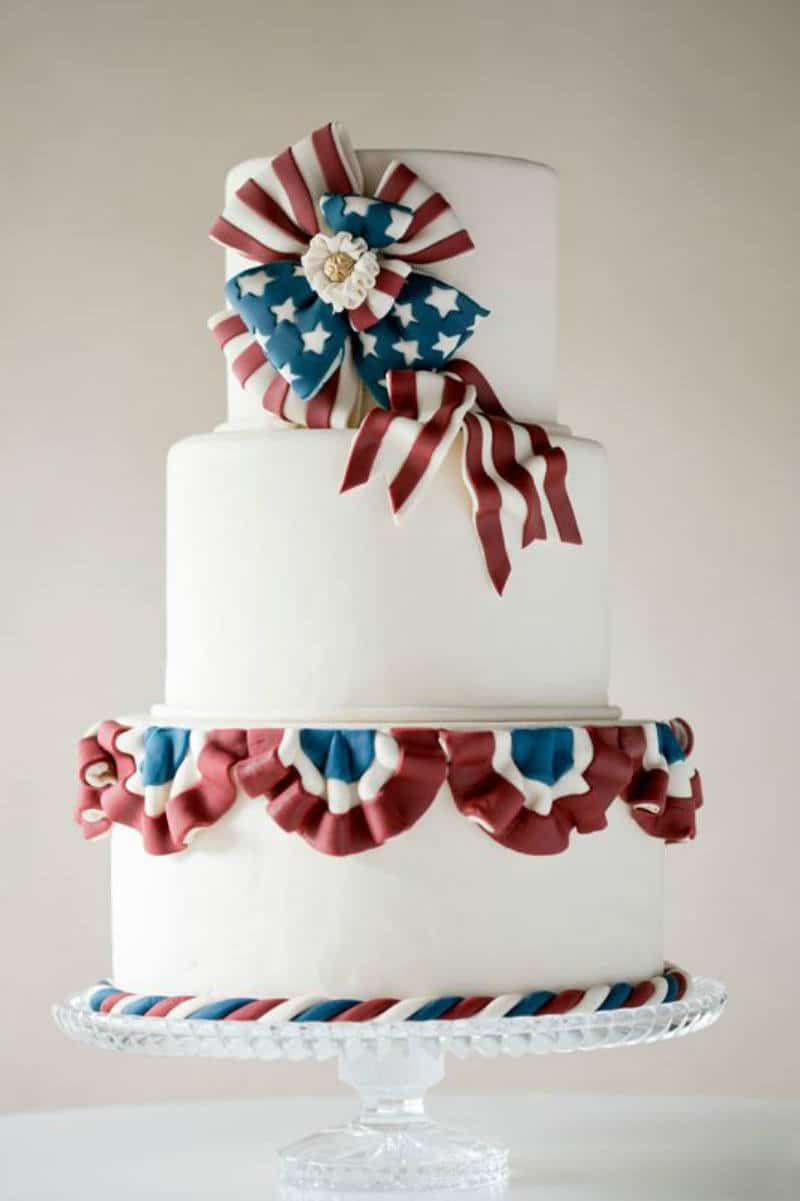 by thecakeblog
cakesdecor.com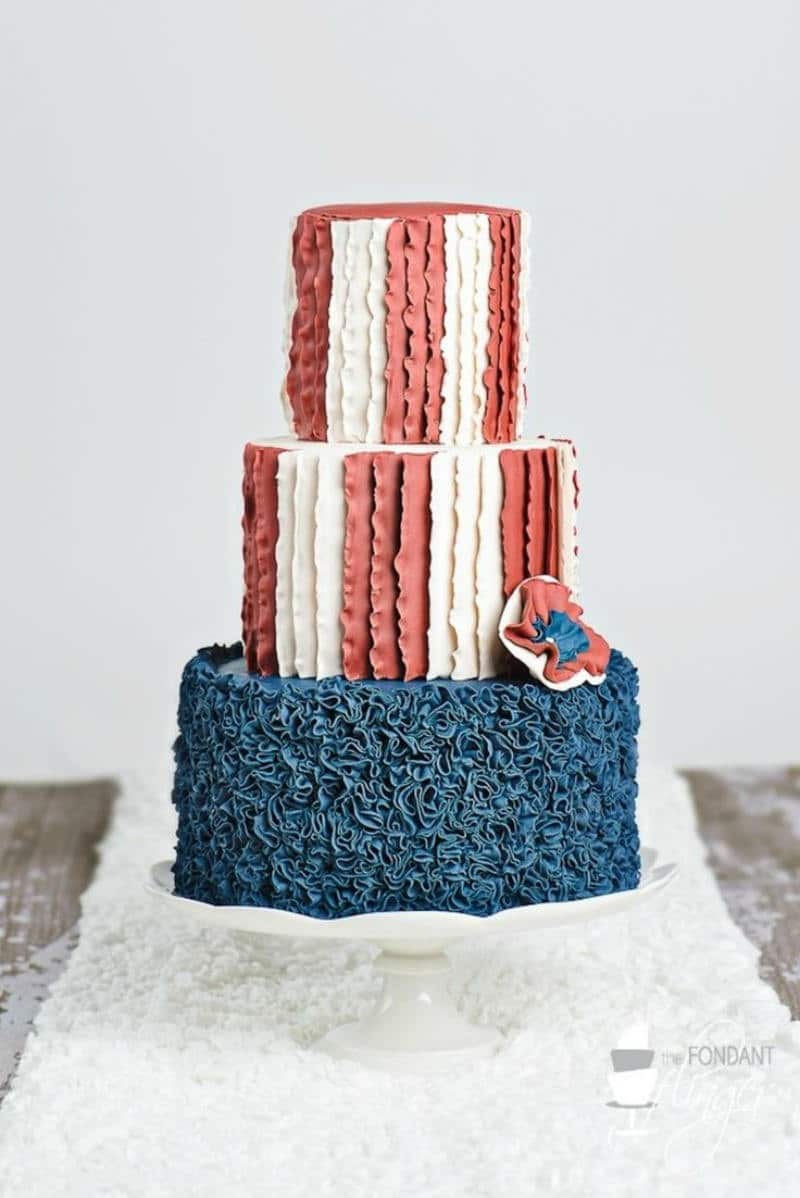 by fondantflinger.com