Valentine's Day Heart Brownie Pops Recipe
You can use your favorite brownie recipe or your favorite packaged brownie mix. This makes approximately 6-8 heart brownies with lots of little brownie bites leftover.Ingredients:
1 box of brownie mix, any brand
2 eggs
3 tablespoons water
1/2 cup vegetable oil
10-ounce package of Wilton light pink chocolate candy melts
10-ounce package of Wilton bright pink candy melts
Supplies Needed:
Red, white and pink lollipop sticks
3″ heart-shaped cookie cutter
2 small sandwich baggies
Kitchen scissors
Directions:
Preheat the oven to 350 degrees.
Spray a 9×13 baking dish with non-stick cooking spray.
Combine the brownie mix, eggs, water, and oil.
Pour the brownie batter into the prepared pan.
Bake 25-30 minutes. Insert a toothpick around 30 minutes, if it comes out clean the brownies are done.
Remove the brownies from the oven and let cool completely.
Line a baking sheet with wax or parchment paper.
Use the heart-shaped cookie cutter to cut out the heart-shaped brownies.
Gently insert a lollipop stick into the base of each brownie and place on the baking sheet.
Pour 5 oz of each Wilton candy colors melts into separate microwave-safe bowls.
Place each bowl in the microwave one at a time – heating for 30-second increments, stirring occasionally until melted. Let cool a few minutes.
Scoop the melted chocolate into 1 sandwich baggy.
Snip the corners of the baggies and gently squeeze the melted chocolate from each baggy onto the brownies in a zig-zag pattern.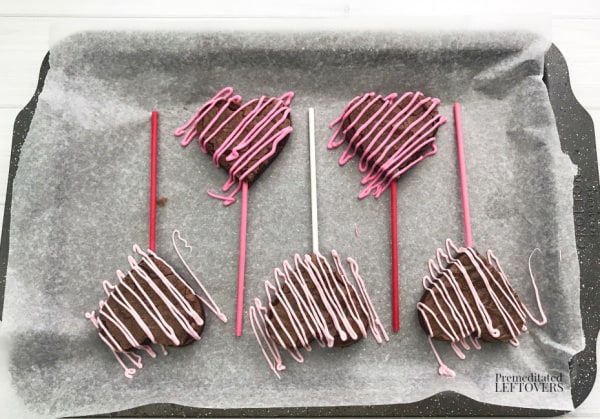 Adorable Valentine Marshmallow Treats (Gift Bag Idea)
What You Will Need
1 package regular-sized marshmallows
1 container vanilla frosting
Red food coloring
Valentine colored paper straws*
Valentine sprinkles*
Wax or parchment paper
Valentine treat bags*
How To Make Them
First, put half of the container of frosting in a microwaveable-safe bowl. Heat it for about 15-20 seconds. You want it the consistency of melted chocolate so you can easily dip the marshmallows.
Once the frosting is melted, mix in a few drops of red food coloring.
Now, it is dippin' time!
Put a valentine straw in the middle of a marshmallow and dip it in the frosting.
Let all the excess frosting drip off.
Now, dip the end of the marshmallow in the valentine sprinkles.
Once you have the bottom of the marshmallow full of sprinkles, set it on wax or parchment paper.
Once the frosting is set, put them in valentine-themed treat bags.
Heart Meringue Cookies
4 egg whites
2 1/4 cups confectioners' sugar
pink gel food coloring (if you want them to be pink!)
Preheat the oven to 200 degrees F. Line a baking sheet with parchment paper.
In a glass or metal bowl, whip egg whites until foamy using an electric mixer. Sprinkle in sugar a little at a time, while continuing to whip at medium speed. Add a tiny drop of food coloring if using. When the mixture becomes stiff and shiny stop mixing, and transfer the mixture to a large pastry bag. Pipe the meringue out onto the prepared baking sheet using a large round tip or star tip in a heart shape.
Place the meringues in the oven and place a wooden spoon handle in the door to keep it from closing all the way. Bake for 2 1/2 hours, or until the meringues are dry, and can easily be removed from the pan. Allow cookies to cool completely before storing in an airtight container at room temperature.