This year Thanksgiving has to be extra extra special, being away from family for so many months due to Social Distancing, so many parties canceled throughout the year… the biggest holiday in the USA and we are still here, with distance or not WE MUST CELEBRATE!!! For me its a very emotional time, and this month I will make the best of it… count on me if you need helping you create your party.
I also created a video on my youtube(still need major work) but I would like to share. In the video, I visited Hobbylobby and I put together a mini apple picking party ideas with some props from their shelves, just to show you that is possible to create something cute on a budget
I will leave the link below …
back droop to be used behind the dessert table 
behind the table banner
signs to decorate the dessert table
more signs
to be used next to one side on the backdrop
use a bunch of them tied next to the dessert table on one side  opposite to the garland 
to decorate the dessert station 
to hold the sweets and desserts 
different layer trays
on the table to hold the sweets (candy) 
to decorate de dessert table with candy can be used as favors as well 
3 Diy desserts for you to try at home
1. Amazing apple pie cake pops
by /www.momsandmunchkins.ca
In this tutorial, I will feature two alternative ways to create this pop. The first will feature the use of cake pop dough. The second (my preference) will feature the "faked" cake pop, baked in a pan. So let's get to it!
Apple Pie Cake Pops – What You'll Need:
cake mix – I used vanilla
eggs
milk
oil
apple pie filling
melting chocolate
cake pop sticks
any decorations you want
optional: cake pop pan/mold
optional: apple corer
Apple Pie Cake Pops – Version One – Cake Pop Dough:
Step One: Prepare and bake the cake as per the box instruction. Crumble and add frosting until you reach a playdough-like consistency.
RAMBLE: Now, I am not the authority on cake pop dough! I am still working on perfecting my cake pop dough recipe to share (i.e., with actual measurements). Annoyingly, like our grandmothers of old, I must confess that when I prepare my cake pop dough, I work more with the feel of the dough (to know when it's ready) rather than knowing the actual quantity of icing used. I don't like my dough too mushy so I try to work with the cake as soon as it's cooled and do not use any of the brown pieces to make sure my dough is extra fluffy. BUT… I know this is a tutorial so generally if you use one box of cake mix (520g) and have one container of ready-made frosting (455g), I would add ¼ spoons of frosting at a time until you get a smooth consistency. You should not need more than ½ of the container of frosting or your cake balls will be too sticky and not hold to the treat stick.
Step Two: Section and roll the cake pop dough into a palm-shaped ball and flatten. Mince your apple pie filling into small chunks and portion a small amount into the middle of your flatten dough. You'll be tempted to add a lot of filling but avoid this as it will lead to seeping and a mushier pop that won't hold.
Step Three: Take the flatten dough and close your hands around the apple pie centre, sealing and securing the filling within the cake pop dough. I've never made one, but I assume this is similar to how you would make a meat or veggie potsticker.
Step Four: Roll the cake pop dough (with the apple pie centre) into smooth balls and place into the fridge to set. You can prepare several of these prior to dipping, just make sure that your cake ball and melted chocolate are of similar temperatures before dipping or your cake pop will crack.
Step Five: As with usual cake pop making, dip your cake pop stick into melted chocolate and then insert the dipped stick into your cake ball. Let the stick and naked cake pop set/dry. Once set, dip your whole cake pop into the melted chocolate and decorate, as desired.
Apple Pie Cake Pops – Version One – Pan Baked Cake Pop:
Step One: Prepare the cake mix as per box instructions and pour the batter into your cake pop pans/molds. Bake as instructed – depending on your pan or mold, instructions will vary. Let the cake balls cool.
Step Two: Once the cake balls have cooled, you may need to do some trimming. Some pans leave your cake ball with a Saturn-like ring around it. To ensure your pop is smooth, take a paring knife and smooth off the excess rings. Next, take your apple corer and push it into the top of the cake ball – about ¾ of a way into the ball. Removed the cored section and cut it leaving a ¼ of the top section that you will use later.
Step Three: Mince your apple pie filling into small chunks and fill the cake ball cavity with apple goodness, leaving enough room to cork it with the ¼ cored cake piece from Step Two. Often to secure the cork – and this is something I'm still trying to figure out – I will smooth some melted chocolate around the edges of the ¼ cored cake piece to make sure it holds to the filled cake ball. Once the cored cake piece and the filled cake ball are secured to one another, you can move onto Step Five above to dip and decorate as you like.
TIP: One way to get around any difficulty with the cake pop stick is to omit the stick altogether and just turn this treat into a cake ball. Simply dip your filled cake ball in chocolate and decorate.
2. Apple decorated Cupcake
by lifeloveliz.com
APPLE DECORATED CUPCAKES
INGREDIENTS
Cake:
1 box White Cake Mix + box ingredients
Red Cupcake Liners
Frosting:
1 cup softened Butter
3 cup Powdered Sugar
3 tbsp Milk
1 tsp Vanilla
Red Food Coloring
Red Sparkling Sugar
12 Tootsie Roll Midgees
Green Fruit Roll ups or Green M&Ms
DIRECTIONS
Preheat oven and line muffin tins with paper liners.
Prepare batter according to box directions.
Fill liners 2/3 full and bake according to box directions for cupcakes.
Allow to cool completely.
Whip butter and vanilla for until fluffy.
Gradually add powdered sugar.
Add milk until you reach desired consistency.
Add food coloring to achieve pink/red color.
Frost each cupcake.
Sprinkle with red sparkling sugar.
Insert Tootsie Roll in middle to make stem.
If using Roll-ups, cut 2 leaves for each cupcake and put in place,
If using M&Ms, place 2 M&Ms to represent leaves.
3. DIY Candy Apples
by intimateweddings.com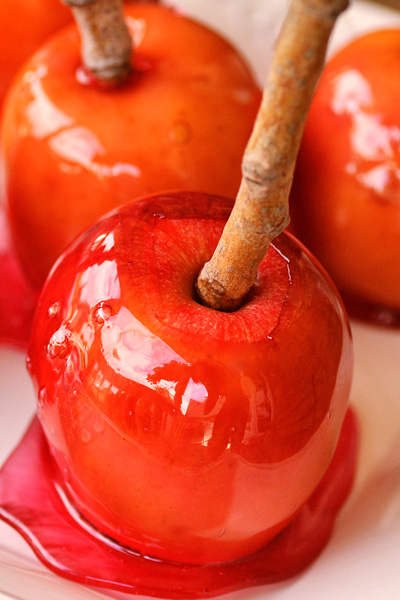 DIY Candy Apples Recipe
Ingredients
12-15 small apples
2 cups white sugar
1 cup light corn syrup
1 1/2 cups water
Red food coloring (I used 16 drops. To create a rich 'candy apple' red (the type you see at fairs), you would have to add several more drops. I used regular food coloring, but I would have used natural food coloring if my local grocery store carried it.)
a few drops apple or cinnamon flavor oil (optional…. I used apple because I had some on hand.)
12-15 sticks (I gathered poplar tree branches from my back yard.)
A candy thermometer is necessary for this recipe.
Cut your sticks to desired length and whittle one end of each stick into a point. This will make it easier to insert into the apple.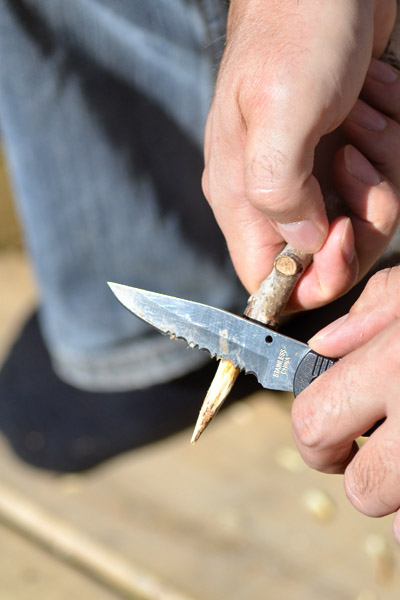 Wash and dry apples. Remove stems. Insert stick approximately two inches into the core of each apple. Set aside.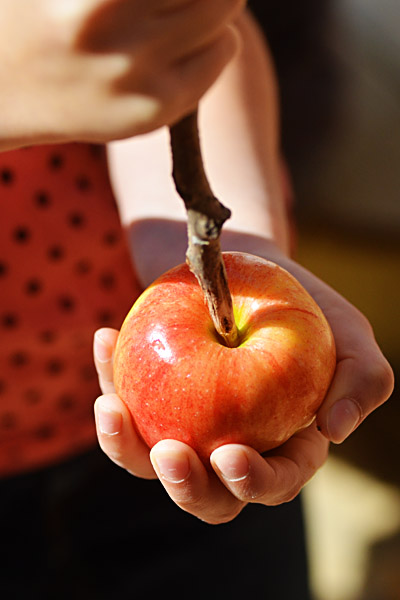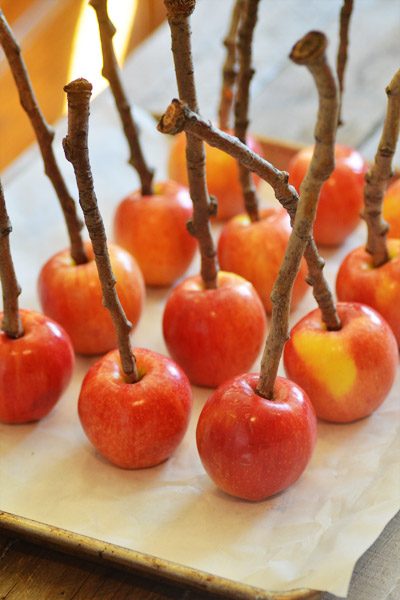 Line a baking sheet with parchment paper. Set aside. In a medium saucepan over medium-high heat, combine sugar, corn syrup and water.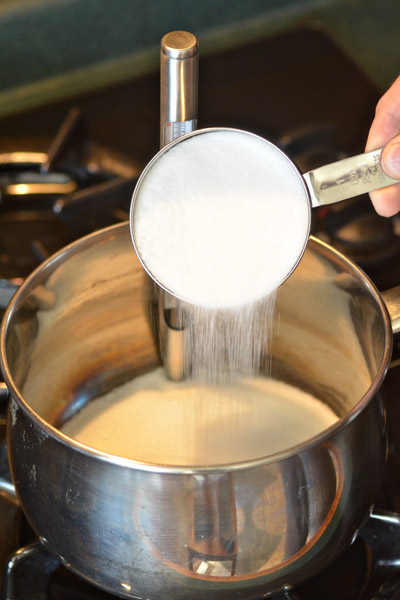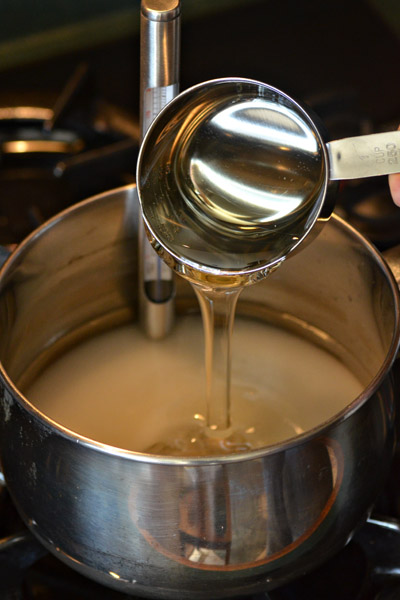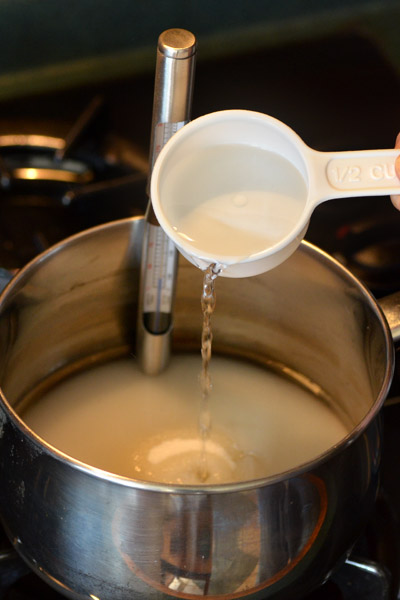 Heat to 300 to 310 degrees F (149 to 154 degrees C), or until a small amount of syrup dropped into cold water forms hard, brittle threads. This took about 30 minutes.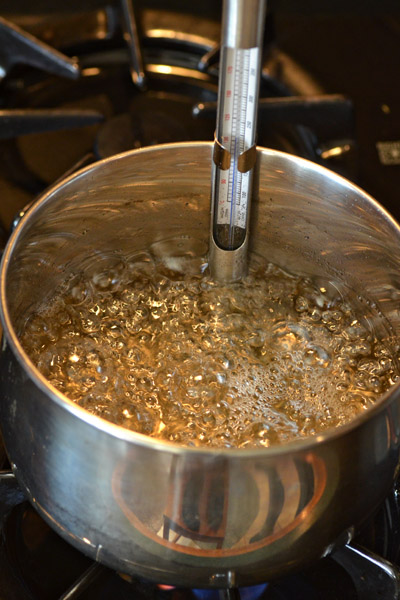 Remove from heat and stir in food coloring and flavor oil. Holding apples by the stick, dip in syrup and swirl until evenly coated. You have to work quickly; the syrup does not take long to seize.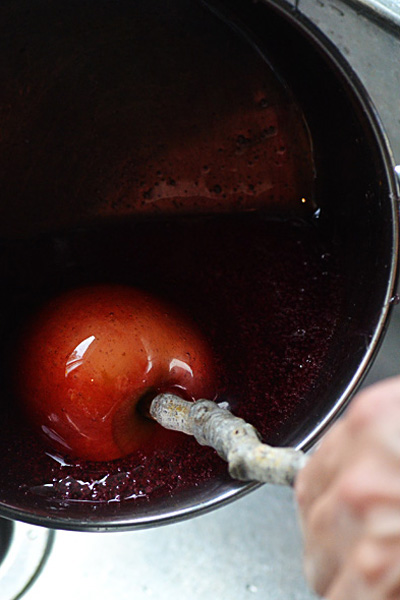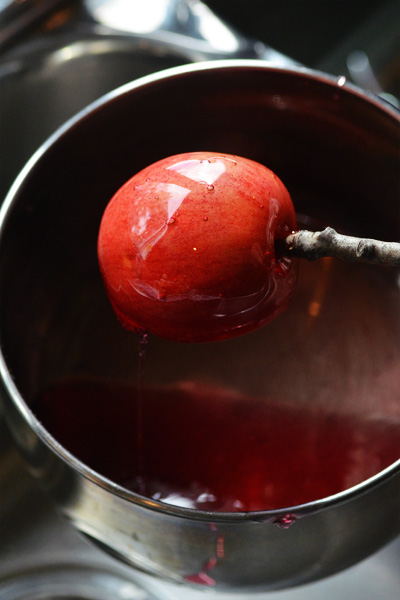 Place candy apples on parchment paper to harden.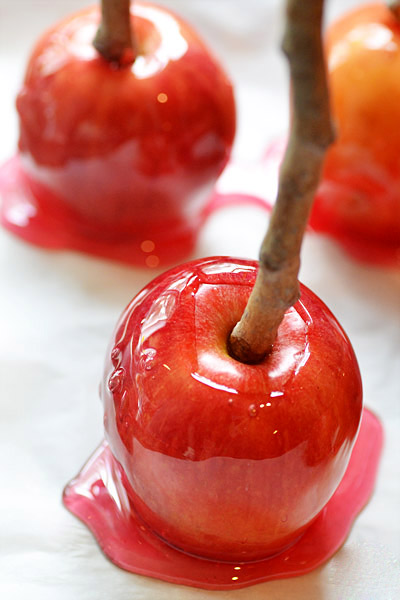 Add thank-you tag if giving as favors. Enjoy!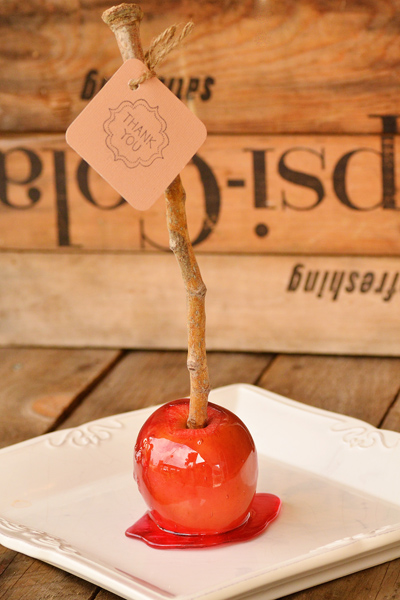 Yum!
5 Creative Apple Theme Cakes
by google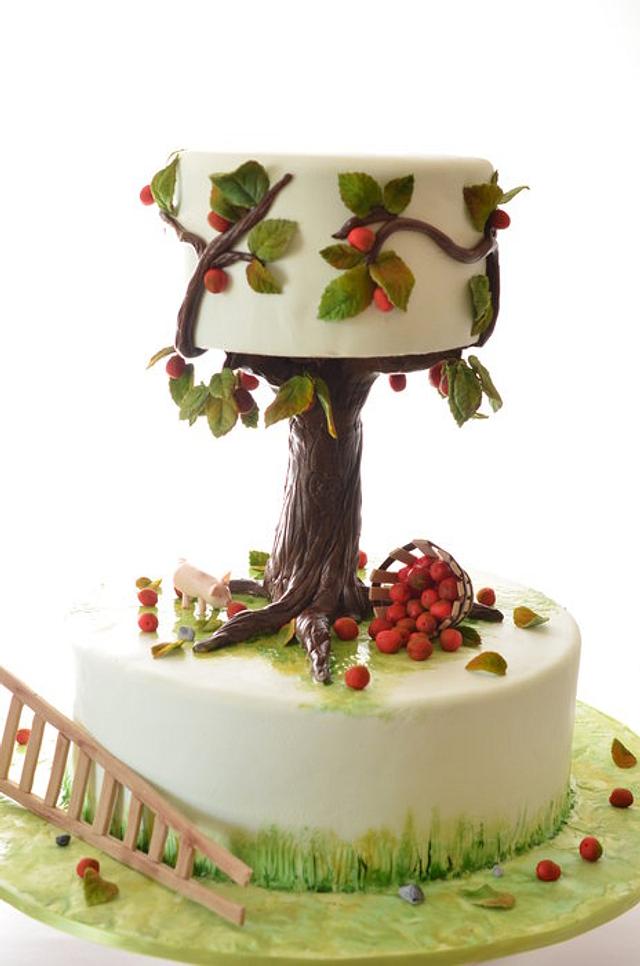 by cakesdecor.com
by 100layercakelet.com
by  howtocakeit.com