That's it this year red Christmas tradition will be on hold. I am dedicating this year's Christmas color to be pink… beautiful girly lovely pink, a soft color delicate pink that in my eyes will represent all the sweet love that I wish you all
perfect pink backdrop
pink gnome decor for the dessert station
decor props for the dessert table or table scape
socks
snowflakes
pink cake stand
gpink cake stand
fondant mold
Pink Christmas Tree Cupcakes
by chandeliersandchampagne.com
They're also super easy! Trust me, when it comes to doing anything even mildly artistic, I'm a hot mess. If I managed to make these Christmas tree cupcakes, you can too! Here's how:
Christmas Tree Cupcakes
Yields 6
You'll need:
6 cupcakes of any flavour
6 ice cream cones
Decorations for your tree. I used:
Buttercream icing:

1 cup unsalted butter, softened
3 cups powdered (icing) sugar, sifted
1 tsp vanilla extract
2 tbsp heavy whipping cream
2-3 drops red food colouring
Special equipment:


Directions:
For the icing:
Prepare a stand mixer with a whisk attachment. Whisk the room temperature butter until creamy.
Reduce the speed to low and add the powdered sugar, 1 cup at a time, until well-blended. Increase speed to medium and beat for 2 minutes.
Add the vanilla, cream and food colouring and continue to beat until desired consistency and colour is reached, about 2 minutes.
To assemble:
Purchase or use your favourite recipe to bake the cupcakes that will act as the Christmas tree base. The type and flavour don't really matter – just make sure you choose a cute liner (I went with metallic silver)! Ensure the cupcakes have cooled before decorating.
Use a spoon or spatula to cover the top of the cupcake with a thin layer of icing.
Use a spoon or spatula to cover an ice cream cone with a thin layer of icing. This initial rough coating will help the icing that you pipe on stick better.
Once frosted, place the cone – point up – in the centre of the cupcake.
To give the appearance of snow on the ground, sprinkle white pearls or sprinkles on the cupcake at the base of the cone.
Using a piping bag and star-shaped tip, pipe dollops onto the surface of the cone to give the appearance of pine needles. Start at the bottom of the cone and work up. If you prefer, you can also pipe the icing as one long swirl, starting at the bottom and working up to the top.
Decorate your tree. I used gold pearl balls, rock candy and pink shimmer gum balls as ornaments!
Enjoy your delicious creation.
Macaroons pink ornaments
I don't know about you, but I personally am fond of macaroons! It is for me a treat that I offer myself to reward myself from time to time 🙂
I am convinced that it is your cute sin too, and it has been for a long time. This delicacy, the taste emblem of France, delights young and old alike. Tourists from all over the world come to France to taste the best macaroons in the Universe;).
If like us, you want to make them at home, Rouge Framboise has found an easy and impossible to miss recipe for you!
Ingredients
Whether they are vanilla, caramel, chocolate, raspberry, lemon or pistachio, your macaroons will have nothing to envy those of Pierre Hermé or Ladurée.
To do this, simply follow the recipe below carefully:
At Rouge framboise, we are going to fall for scented macaroons filled with raspberry (logical, you will say: D)!
For 12 people, you will need:
100 g of almond powder
100 g icing sugar
100g caster sugar
 2 x 35g of egg white (about 3 egg whites)
25 g of water
natural powdered raspberry food coloring
raspberry jam
Preparation of the recipe
To start preparing your dough, we recommend that you start by mixing the almond powder and icing sugar in a food processor or with an electric mixer for about 2 minutes. Sift the resulting mixture into a container so that the macaroons are very smooth. Add the egg whites then mix until you get a thick almond paste.
The second step is to prepare your syrup. To do this, first heat some water and sugar in a saucepan over medium heat without stirring. In the meantime, beat the 35 grams of egg whites until stiff. Once the syrup is cooked, pour it over the whipped egg whites, stirring gently. As soon as the mixture is well incorporated, beat it at full speed for 5 to 10 minutes then add a little natural food coloring.
Incorporate this preparation into the mixture of almond powder, icing sugar and egg whites. Mix until everything is perfectly homogeneous.
All you have to do is put the macaroon machine in a pastry bag and make small dough pucks about 2 cm in diameter on baking paper. Let the macaroons sit for 25 minutes until they are no longer sticky to the touch. Bake them at 150 ° C for 12 to 14 minutes.
Assembly of macaroons
Once the macaroons are cooked through, let them cool for 10 minutes, then try to peel them from the parchment paper.
Place jam on one shell and compress with another shell to make everything adhere well.
Conservation
For the conservation of your macaroons, it is absolutely necessary to put them in an airtight box. This protects the macaroons from heat, humidity, dryness and surrounding odors. Thus, you can keep them in their box in the refrigerator for a week. You can also freeze them for several months at -18 ° C.
Now you just have to savor this grainy and chewy cupcake. Good tasting !
Christmas Cake Ornament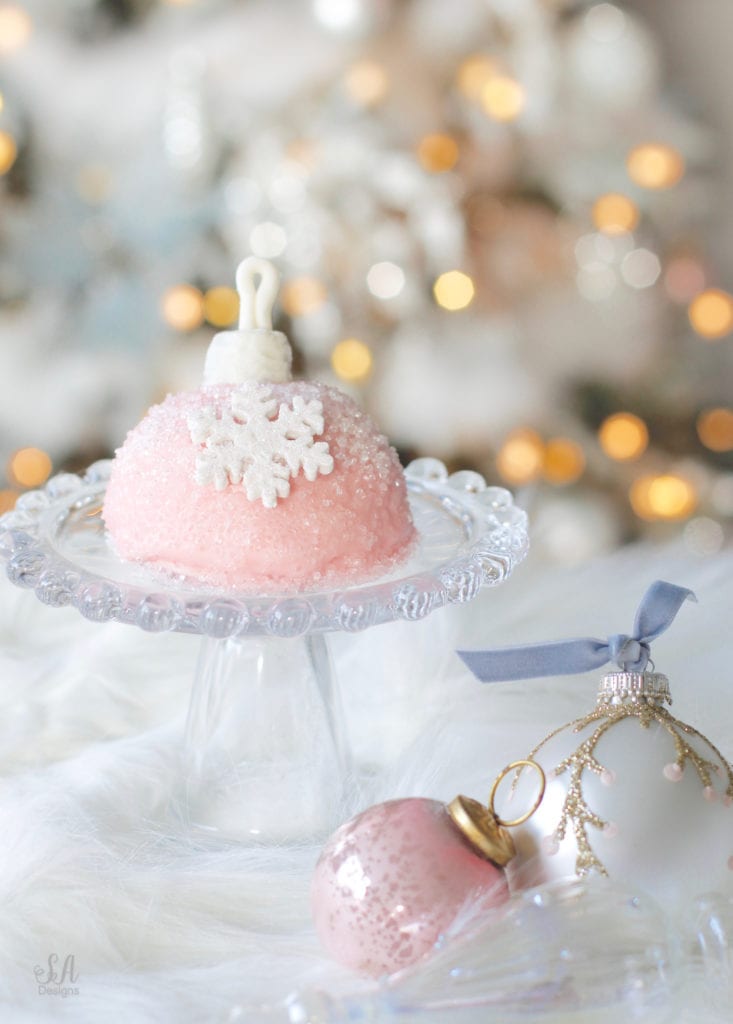 Individual Ornament Cakes – Chocolate Cake Recipe
Ingredients
Cake Ingredients:
1

 

box

 

(18 1/4 ounce) Devil's Food cake mix

1

 

box

 

(4 ounce) instant chocolate pudding mix

1

 

cup

 

sour cream

1/2

 

cup

 

vegetable oil

1/2

 

cup

 

water

4

 

large

 

eggs
Frosting Ingredients:
4

 

cups

 

powdered sugar

1

 

cup

 

softened butter

2-3

 

tsp

 

vanilla

1-2

 

tbsp

 

milk

1

 

bottle

 

sparkling sugar
Top of Ornament Ingredients:
1

 

small tub

 

white fondant

1

 

bag

 

white candy melts
*You'll need to buy half-sphere cake molds and small peanut butter cup candy molds for this recipe.
Instructions
Cake Instructions:
Preheat oven to 350˚F.  Place the cake mix, pudding mix, sour cream, water, oil, and eggs in a large mixing bowl.  Blend with an electric mixer on low speed for 1 minute.  Stop and scrape down the sides of the bowl.  On medium low speed, continue to blend for 2-3 minutes more.  The batter will be very thick and should look well combined.  Pour into silicone mold, filling each cavity 3/4 of the way with cake batter.  Place into oven and bake for 20 min and then check by sticking a toothpick in each one.  If it comes out clean, it is done and you can remove and let cool.  If it is still wet, return to oven for another 3 min at a time.

Once removed from oven, allow to cool for 5 min and then flip over quickly (onto smooth surface or parchment paper) to allow them to cool completely.
Frosting Instructions:
Add softened butter and vanilla to the mixing bowl and mix until completely combined.  Add Powdered Sugar and beat on low until it is incorporated. Then move mixer up to medium-high speed. Scrape sides and bottom of bowl often. When completely mixed the frosting may appear dry.  Add milk a little bit at a time until frosting is the proper consistency.  Add food coloring of color that is desired.  Keep thick.  Frost the cake half-spheres once cooled.  (I like to make the frosting and the top of the ornament (below) while cake is baking in the oven.) *Tip: Freeze cakes for 1-2 hours before frosting, to avoid crumbs from being spread all over.*  Then, immediately sprinkle with sparkly white sugar.
Top of ornament instructions:
Melt half a bag of white candy melts by following instructions on the bag of contents. Pour into small peanut butter cup candy molds and let harden for about 20-30 min. I prefer doing this while the cake is baking.

Roll out a small bit of the fondant in your hand until it's skinny and long.  Cut 1 1/2″ to 2″ sections (whichever you prefer) and fold over, pinching ends together.  Set and let dry for at least 30 min.  Attach with a small dab of melted candy melts onto white mini cups and hold for a minute. Now, place the candy cup and marzipan loop that you've made for the top of the ornament cake and place it on the ornament cake (as shown) with some more of the melted candy.  Instead of holding it there for a few minutes, I just took pieces of tooth pics and stuck them into the cake with the ornament top resting against it until it dried/hardened.
Ornament decoration:
You can either use a mini cookie cutter of a snowflake or other shape to cut out fondant for a decoration on the top of the cake.  OR  You can buy small candies that are used to decorate cakes.  They have snowflakes and other things also.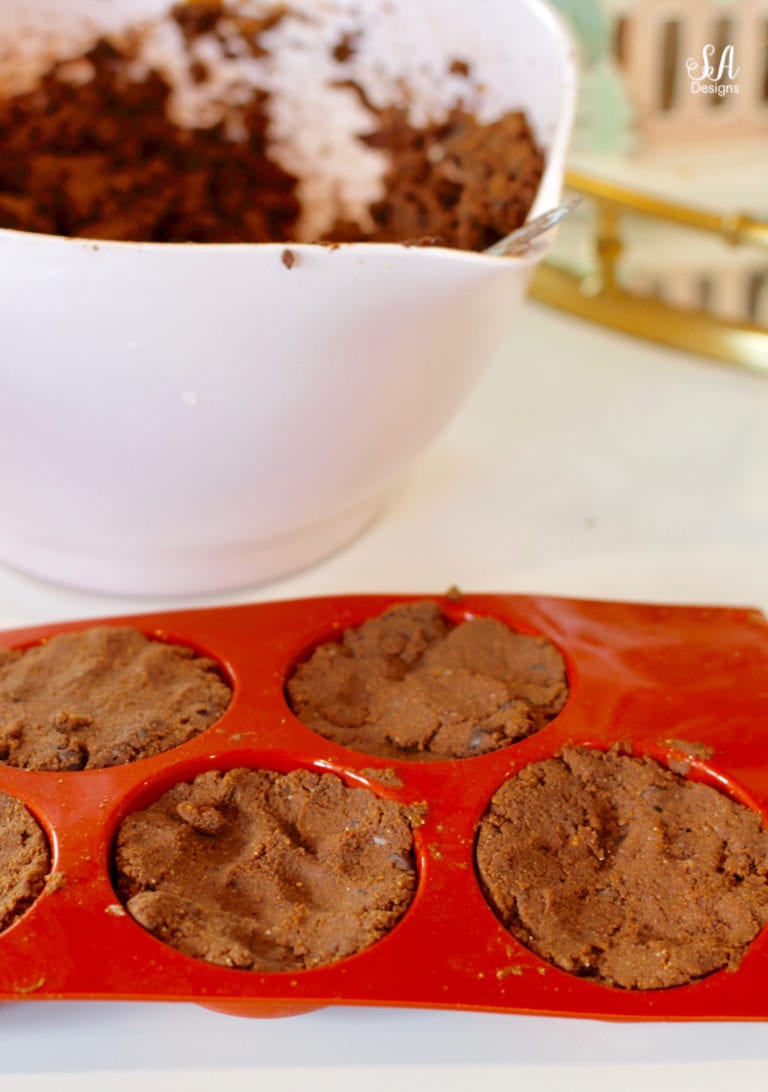 Confession:  I started eating a low-carb diet recently and cut out sugars so while I made the regular cake recipe for my family, I then made the most amazing Keto low-carb chocolate cake (shown above in molds) that I'm going to share it also on the blog this next week.  It is really fabulous too!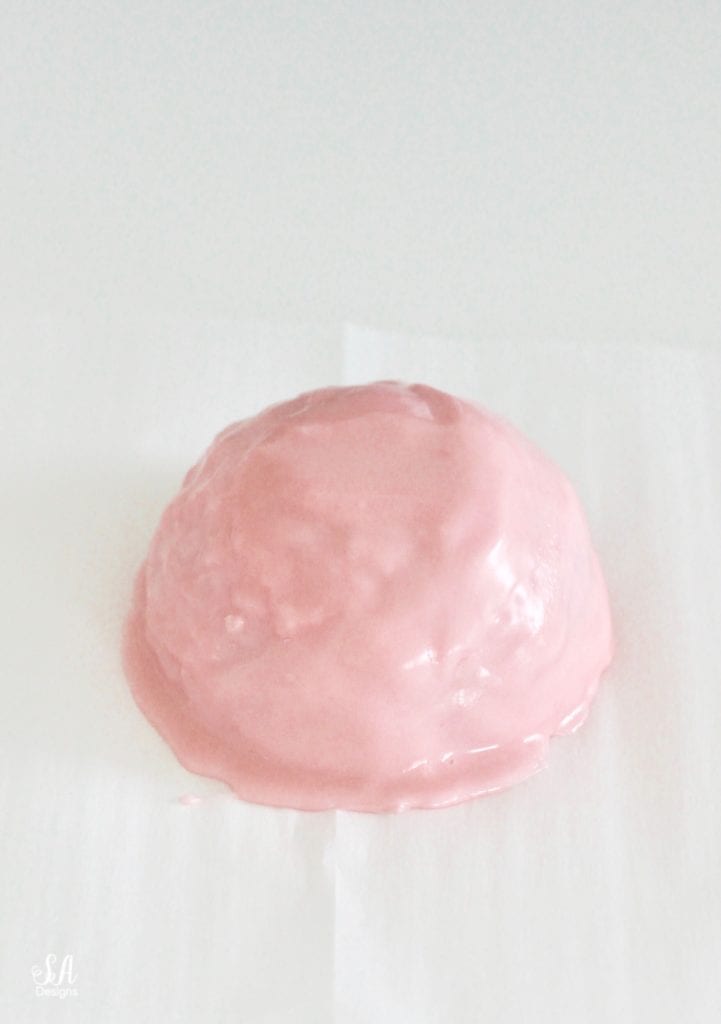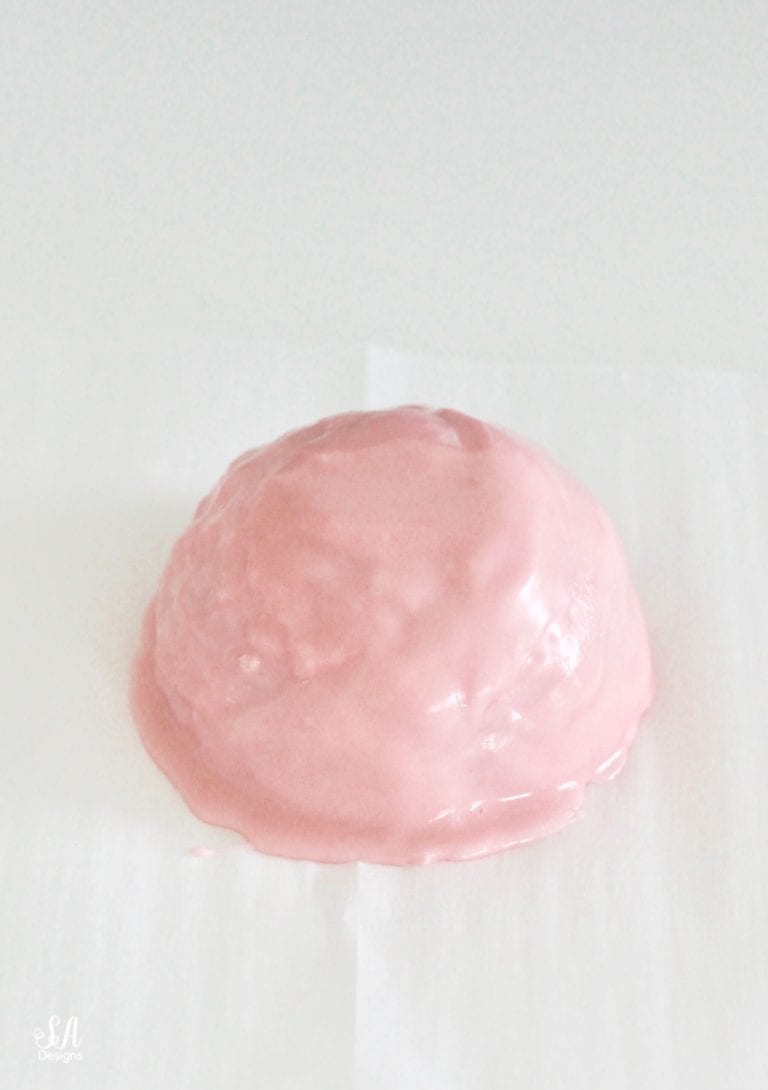 I frosted the cakes on parchment paper and then added the sparkly sugar.  Frost it as smoothly as you can but imperfections are fine and will be covered by the sparkly sugar.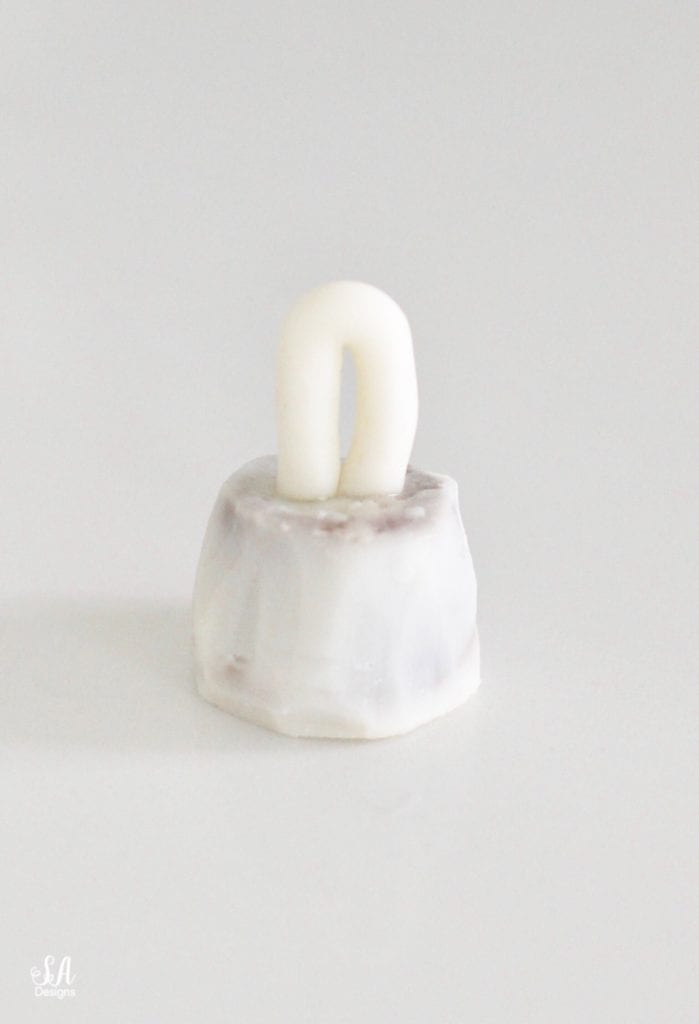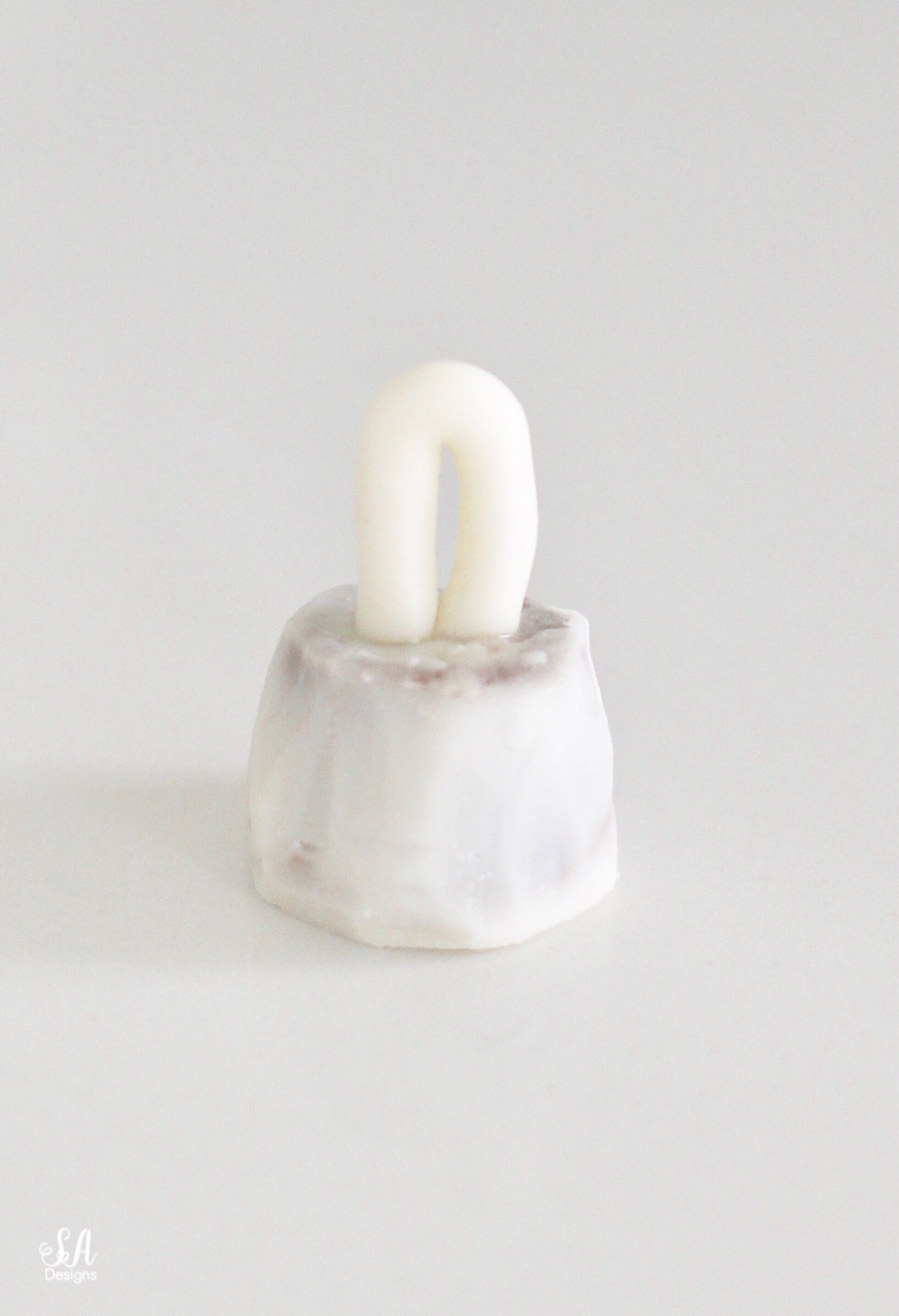 While the recipe calls for you to melt the melting candy chips and pour into the smaller molds, I just happened to have Rolos from Beckham's leftover Halloween candy (haha) that I wanted to get rid of.  So I froze them first and then poured the white candy melts over them and let them harden. I took a knife and quickly shaved off a few sections to make it look more the shape it should.
While there are several little parts to this individual ornament cakes recipe, I promise that it goes quickly and is really quite simple.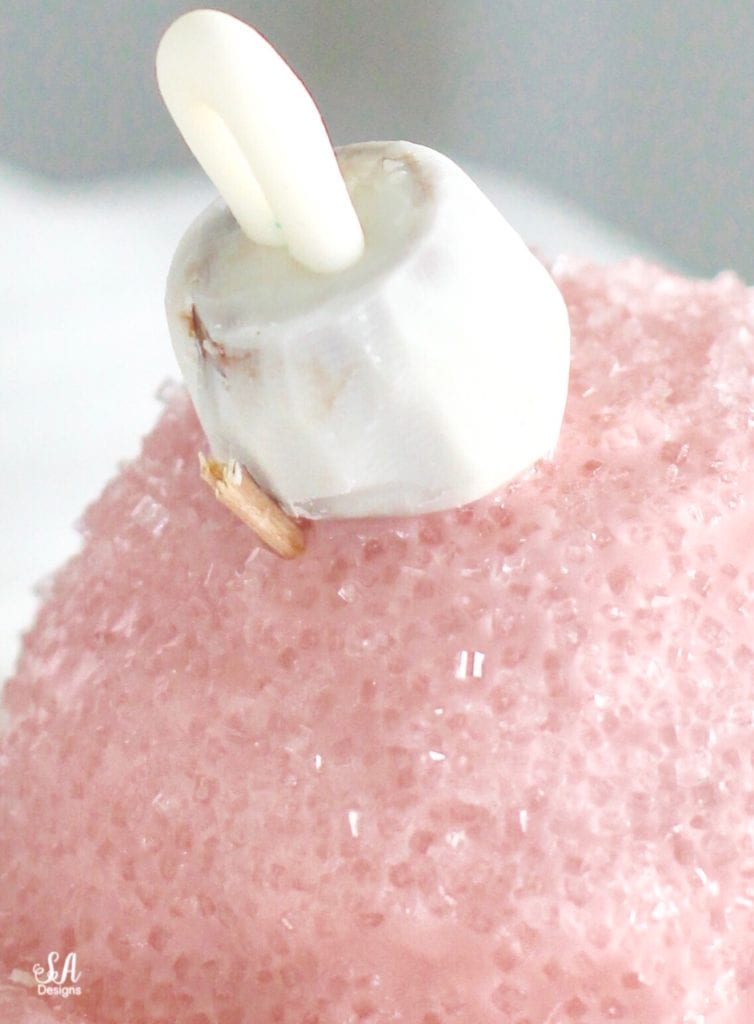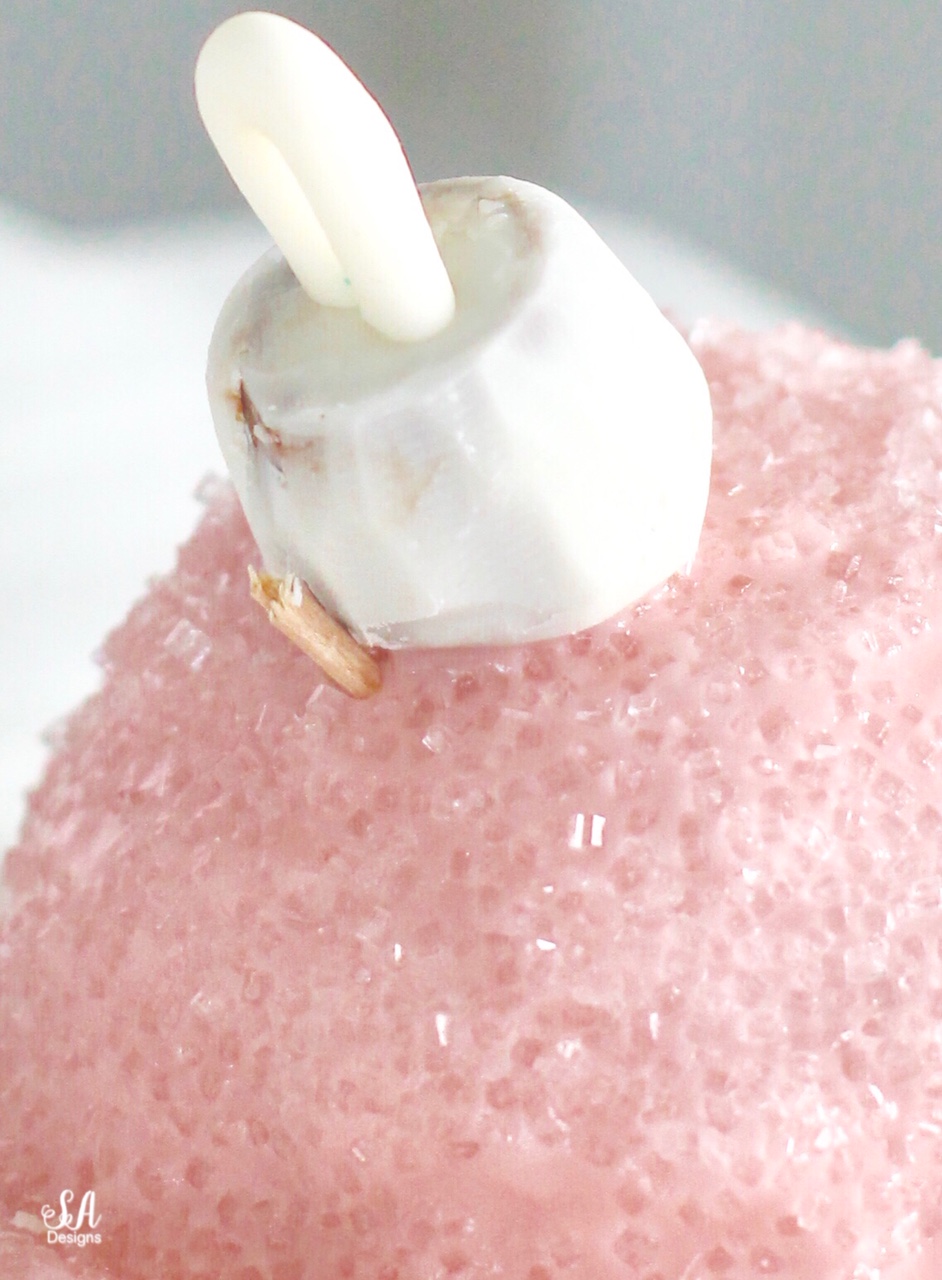 As mentioned in the recipe instructions, I rested the top of the ornament (candy) against the toothpick on top of the cake until it hardened in place.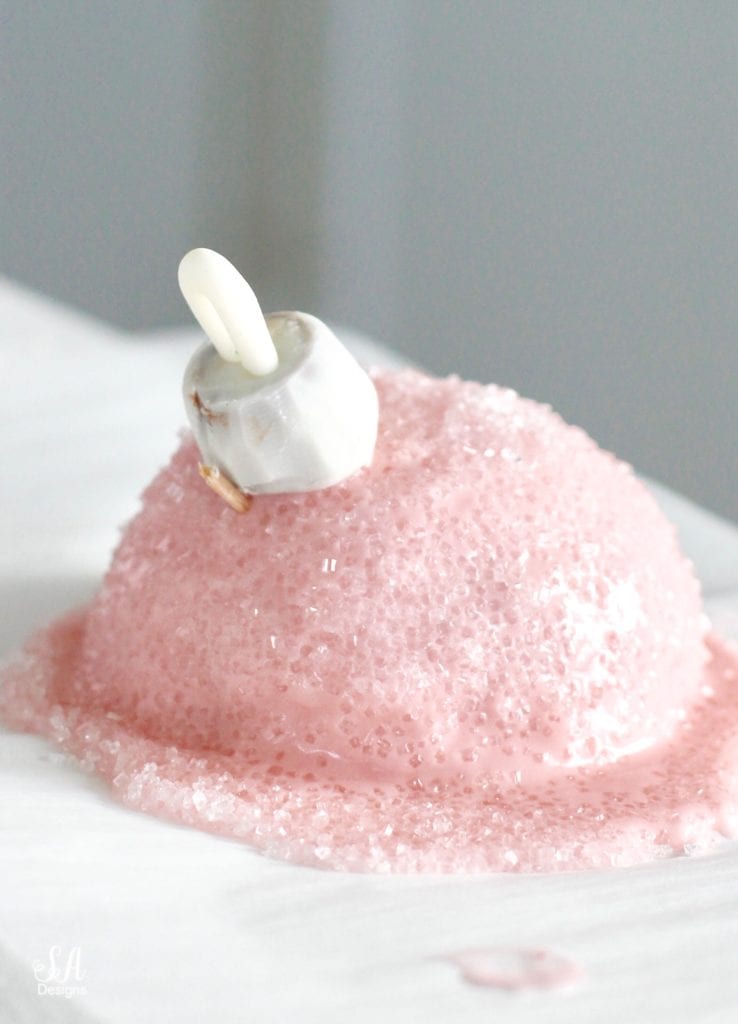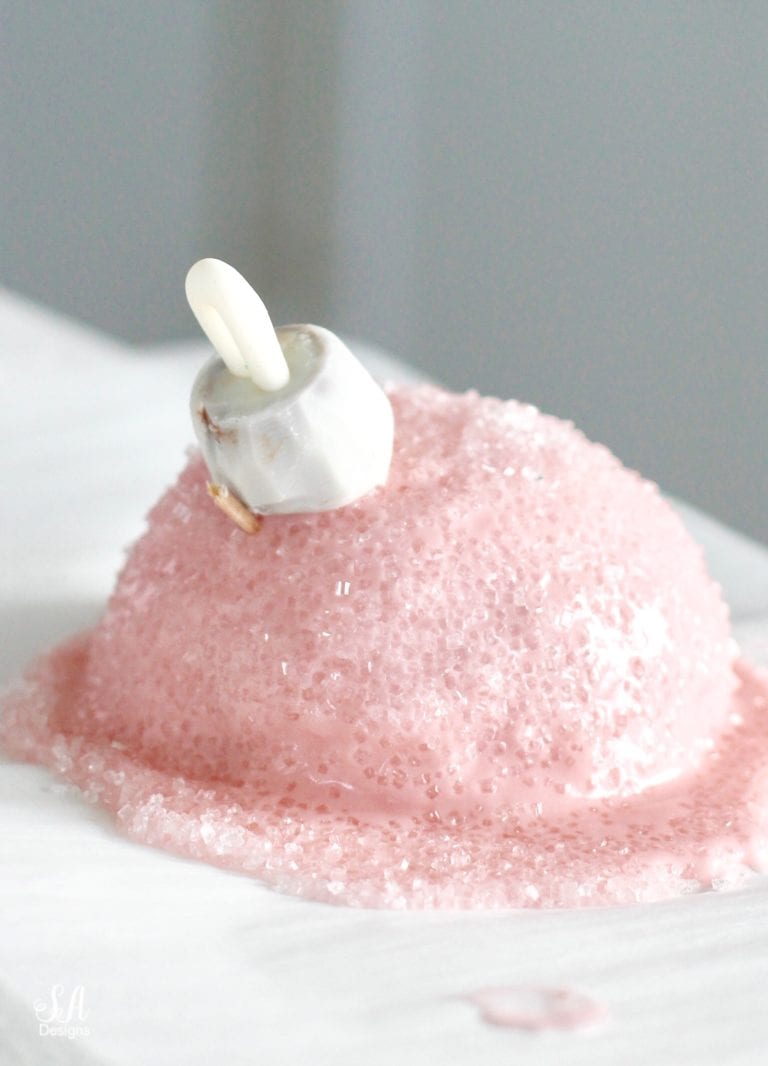 Once the frosting hardens, you can use a cake server to remove each individual ornament cake from the parchment paper and onto a pretty cake stand or plate.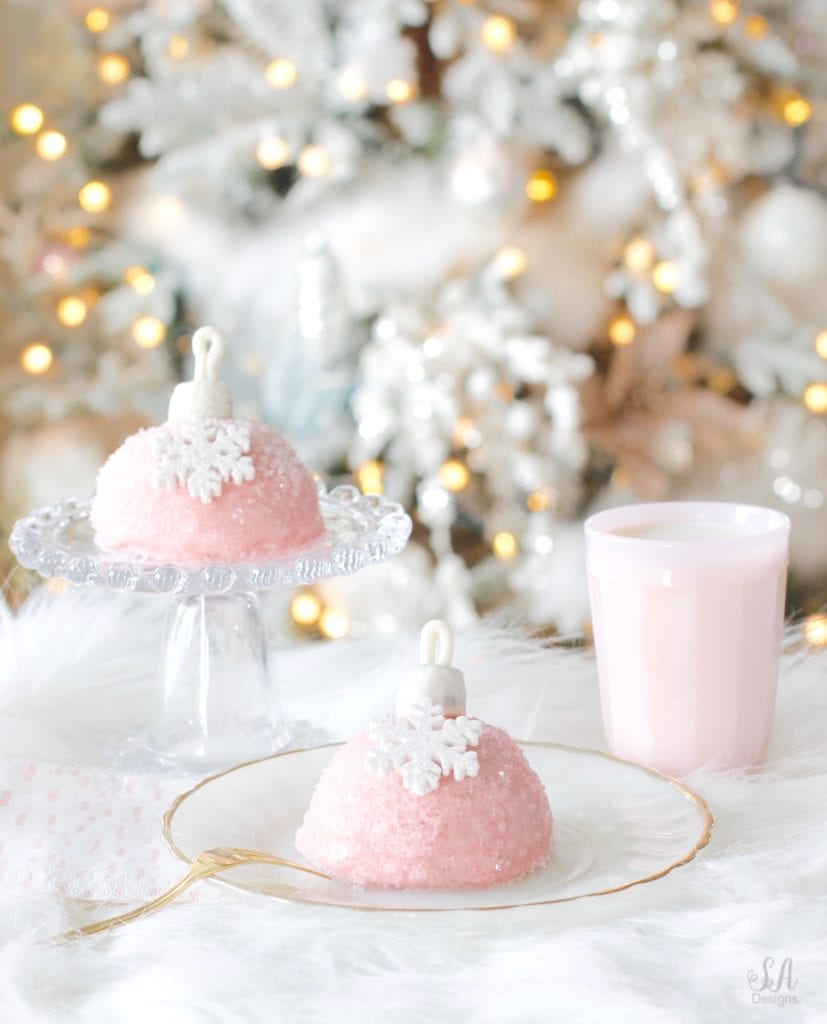 When you serve these individual ornament cakes, make sure to also serve a cup of milk because, like brownies, they go perfectly together.  Yummy!!
5 Amazing Cake Ideas for your Perfect Pink Christmas
by junipercakery.co.uk
by cakesdecor.com
by dulcedecoracion.es